Essay Paper on Compensation and Benefits Article Analysis
Rekha Balu, a Fast Company Magazine staff writer, explains how bonuses are being used as benefits for frontline hourly workers in a pork – processing plant in Milan, Missouri. The article entitled, "Bonuses Aren't Just for the Bosses", describes how the 900 people who work at Premium Standard Farms are rewarded with a new approach to compensation and motivation. A summary of the article and key issues will be highlighted, along with identifying the author's conclusions and recommendations. Balu's conclusions and recommendations will then be related to personal experiences and readings, showing agreement or disagreement with his statements.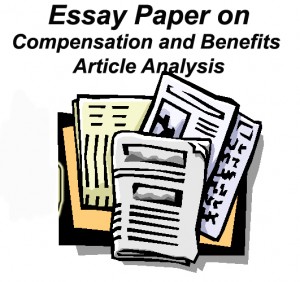 The article deals with establishing bonuses for hourly workers who are paid $10 an hour to perform some pretty old – fashioned jobs. The workers made changes that saved the company many thousands of dollars a month and these changes reduced the employee – retention rate to half of what it was normally. Because of these efforts, the hourly workers are being rewarded through an incentive program, which the employees developed. Brad Hill, a consultant, was brought into the plant to help develop Premium Standard's program.
The program was not an easy sell to the employees. There were many important issues that Brad Hill had to teach the workers to deal with while developing the program. Hill's plan was to create a design team, a crew of volunteers representing each department, who had to create a gain – sharing program that added to their company's bottom line – – as well as to their own blank accounts. This was one key issue that Brad Hill had to deal with; another was convincing the workers to get started.
Rekha Balu concludes that because of the incentive program at Premium Standard many good things began to happen. Absenteeism dropped dramatically, as did the number of production errors and overtime hours. Balu wrote that for the first time workers connected with the value of their daily work and the needs of people in their surrounding community. Although the author does not state his recommendations in the article, his positive views on the incentive program suggests that he be in favor of this type of program. Not only to compensate the hourly workers but to also give workers dignity and a greater sense of purpose…

This is just a free sample of the research paper, or part of the research paper on the given topic you have found at ProfEssays.com. If you feel you need professional writing assistance contact us! We will help you to create perfect research paper on any topic. ProfEssays.com – Leading custom essay and dissertation writing company and we are 24/7 open to serve you writing needs!
Don't hesitate! ORDER NOW!
Looking for an exceptional company to do some custom writing for you? Look no further than ProfEssays.com! You simply place an order with the writing instructions you have been given, and before you know it, your essay or term paper, completely finished and unique, will be completed and sent back to you. At ProfEssays.com, we have over 500 highly educated, professional writers standing by waiting to help you with any writing needs you may have! We understand students have plenty on their plates, which is why we love to help them out. Let us do the work for you, so you have time to do what you want to do!