Essay Paper on Barnes & Noble Company
Introduction of Organization
In 1873 the company was founded when Charles M. Barnes started a book business from his home in Wheaton, Illinois. Throughout the 1970s and 1980s, the company made a great success in the bookselling industry. In 1974, Barnes & Noble was the first bookseller in America to advertise on television. In 1990s, Barnes & Noble refined its superstore concept and established the modern generation of Barnes & Noble superstores, which today represent over 96 percent of our retail sales. The company Internet shop was launched in 1997. Using contacts gathered from his time in the financial hub of America it was able to attract sufficient investment capital from investors excited about the prospects of Internet selling to initiate the business concept behind Barnes & Noble.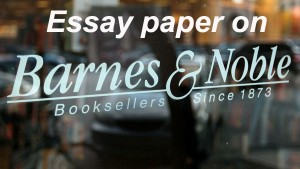 The basis of the Barnes & Noble strategy was to create a virtual bookshop on its website. The huge array of data was customized by Barnes & Noble for easy access to potential clients whether they were book buyers, literary agents, publishers or authors. Each request for a book or 'click of interest' helped to build the database of customer profiles and to build a 'virtual community'. Thus, one of Barnes & Noble 's key strengths became its ability to organize and disseminate book information for both consumers and businesses in the book trade. A large number of buyers each acting largely independently of each other and buying only small quantities of a product will have comparatively weak power. If the industry in question is fairly concentrated and its members arc large in comparison to the buyers, then buying power will tend to be reduced. The degree of concentration has the effect that a few suppliers will tend to reduce the bargaining power of buyers as choice and the ability to 'shop around' is reduced.
Discussion of General Environment
Barnes & Noble is an international company. Most of its programmes were geared towards low cost and easy financial benefits as a result of the high volume of online traffic from its publishing and book-selling customers. Barnes & Noble brand-name itself attracted the high volume of online traffic to the Barnes & Noble website. Thus, in the initial development of the Barnes & Noble strategy towards its business customers (B2B), the company set out to become the lowest cost provi¬der of books in the industry. "This differed from the strategy adopted for its consumer market (B2C), where book buyers sought additional services, wider choice, efficient delivery and a host of book informa¬tion services as well as a low price".
Corporate partnerships became an important part of the Barnes & Noble strategy. In particular, the company formed alliances with Internet search engines and ISPs. These offered access to heavily trafficked websites which could play an important role in directing customers to the Barnes & Noble website thereby increasing the company's brand awareness and market share. Mutual benefits arose from this arrangement. The high profile of Barnes & Noble offered 'corporate' sponsors such as the Star Wars franchise the opportunity to gain exposure from the website. Barnes & Noble 's corporate partners included Internet Movie Database, AOL Netfind, Adobe, Motley Fool and Magellan Internet Guide.
Despite the undoubted promise of the Barnes & Noble strategy, three years on from its stock market flotation the company hit crisis. On 2000 Barnes & Noble would run out of money within a year. Debts had built up significantly since 1997 and the company was yet to show signs of profit despite encouraging revenue streams. Along with many other dot.com businesses, Barnes & Noble found investors offloading its stock in early 2000, thereby reducing the share price by some 20%. New Internet businesses soaked up investment capital like a sponge based on little more than potential future profits from clever Internet applications rather than using physical resources. The success of Barnes & Noble was built on its knowledge and expertise in book selling. Essentially, this was the core business – both B2C and B2B.
The initial business strategy did not include ventures into other areas of retailing. After a series of acquisitions and partnerships, Barnes & Noble entered other markets as diverse as healthcare. Other competitive pressures came from publishers and booksellers who maintained and built upon their own in-house catalogues. In terms of distribution, Barnes & Noble had to operate in a highly competitive world market for shipping and transportation of goods – an area of business that does not constitute one of the company's core strengths…

This is just a free sample of the research paper, or part of the research paper on the given topic you have found at ProfEssays.com. If you feel you need professional writing assistance contact us! We will help you to create perfect research paper on any topic. ProfEssays.com – Leading custom essay and dissertation writing company and we are 24/7 open to serve you writing needs!
Don't hesitate! ORDER NOW!
Looking for an exceptional company to do some custom writing for you? Look no further than ProfEssays.com! You simply place an order with the writing instructions you have been given, and before you know it, your essay or term paper, completely finished and unique, will be completed and sent back to you. At ProfEssays.com, we have over 500 highly educated, professional writers standing by waiting to help you with any writing needs you may have! We understand students have plenty on their plates, which is why we love to help them out. Let us do the work for you, so you have time to do what you want to do!