Winchester 2002 by Jeremy Blake
This paper is a reflection of the artwork "Winchester" by Jeremy Blake. This painter is known to he publicity due to his priceless works that differ from other artworks, first of all by the way that they were executed, since not many artists are able to work with the newest technologies and create the peaces of art that represent as much value for the international art as those of Jeremy Blake. Secondly, for his age the artist showed himself as a selfless and creative person, who impressed great minds of our century and gave a new solid impetus for future artists, opening a new field to discover.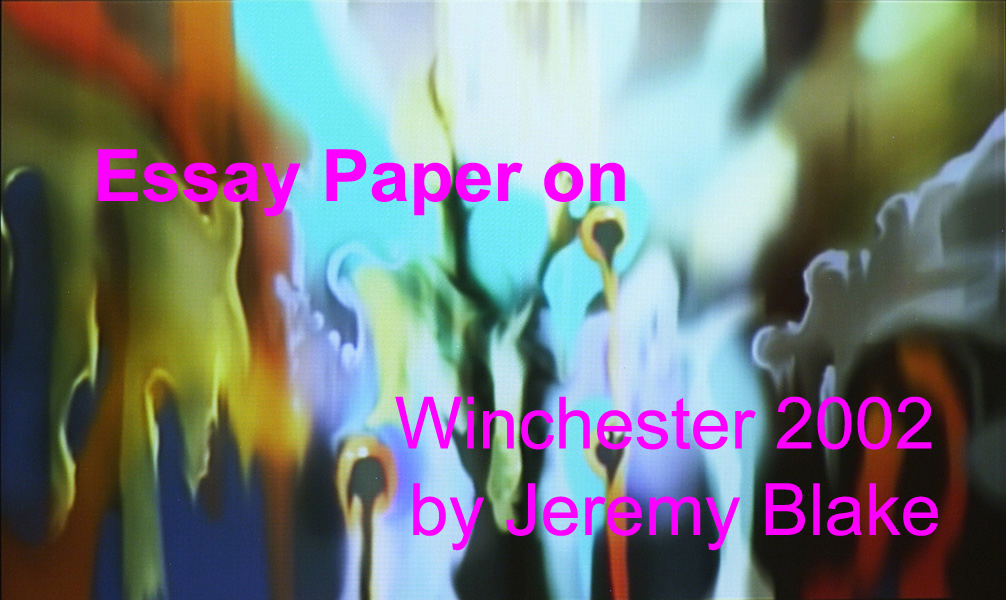 The artwork named "Winchester" is considered to be his most famous work and is a part of a trilogy. "Winchester" is a series of animations inspired by Heiress Sarah Winchester and the building she constructed – Winchester Mystery House. Jeremy Blake was able to transfer all expressiveness of the building into his masterpiece that is by right recognized as an influential artwork.
Gothic trail that is so characteristic to this work apparently owes to the way that Blake depicted the house, the colors that he used and this special technique that gives a fuzzy appearance to the house. Obviously, the reasons for which Heiress Sarah Winchester constructed such bizarre house weren't filled with positive emotions, since she wanted to get protection from some ghosts. And the building itself looks like a real shelter for the ghosts and evil forces. The visual graphics, special effects and sound work together and produce an unforgettable effect on viewer's mind.
Winchester's madness is ably communicated to the viewer through the series of animations that are strange enough even for experienced audience, since shown images influence the sight and memory of those watching the artwork and produce a unique impression. It's important to mention that the impression that everyone gets as a result of watching this particular artwork is always frustrating and depressive, as the history of this building. Blake's merit is that he was able to use the newest technologies and unite them with traditional art of depiction. Together this produces greater effect than any other kind of technique…

This is just a free sample of the research paper, or part of the research paper on the given topic you have found at ProfEssays.com. If you feel you need professional writing assistance contact us! We will help you to create perfect research paper on any topic. ProfEssays.com – Leading custom essay and dissertation writing company and we are 24/7 open to serve you writing needs!
Don't hesitate! ORDER NOW!
Looking for an exceptional company to do some custom writing for you? Look no further than ProfEssays.com! You simply place an order with the writing instructions you have been given, and before you know it, your essay or term paper, completely finished and unique, will be completed and sent back to you. At ProfEssays.com, we have over 500 highly educated, professional writers standing by waiting to help you with any writing needs you may have! We understand students have plenty on their plates, which is why we love to help them out. Let us do the work for you, so you have time to do what you want to do!