Essay Paper on Women's Film Festival
The art of cinematography has lately gained its popularity among vast masses of cinema lovers and those addicted to movie stars lives. The amount of motion pictures, created up to now is hard to imagine, the names of popular actors change with the great rapidity. It seems like the directors have already tried all known genres and discovered all possible themes, yet new movies appear every day, and some of them are worth seeing. And some of them are even worth being shown at Women's Film Festival, so below is my proposal for it.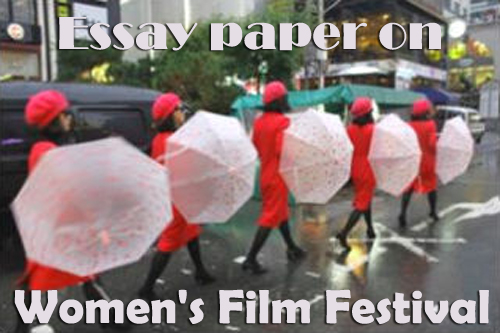 Since the film festival has a word Women's in it, this is supposed to direct somehow the attention of creators of proposal towards specific themes that could be interesting for women. What genres, actors, directors, themes can be interesting for them? It's a common knowledge that women are not keen on seeing action films with rivers of blood, constant shooting and crying, and prefer tearful melodramas with happy-ends to other film genres. The aim of my proposal for Women's Film Festival is to break the standards and stereotypes with the help of introduction into festival's program movies of different genres, themes and directions, which nevertheless correspond to feminine atmosphere of the whole event.
Day 1
"Closer" (director Mike Nichols, starring Julia Roberts, Natalie Portman, Jude Law, Clive Owen, USA, 2004)
Opening the festival with this motion picture will set the tone for the whole event. The choice is rather logical since the main topics involved in the story are: the problem of deception, unfaithfulness, love, intimacy. "Closer" reveals all problems that any average married couple usually faces sooner or later, and shows the examples of two problematic couples that are trying to find happiness in the city of London.
The director Mike Nichols is known to be a professional who works with the variety of genres, from comedies to dramas. But the most famous of his works always deal with the problem of position of woman in society ("Working girl", "Who's afraid of Virginia Woolf?"). In "Closer" he worked on another topic, basing on the successful play of Patrick Marber, depicting two couples that in course of pure accidents meet each other and fight with different life obstacles, facing problems that are common to the majority of couples.
The performance of the actors is brilliant. Calm and phlegmatic character played by Julia Roberts, sarcastic young girl with "intrepid conduct" in performance of Natalie Portman, unsuccessful and unconfident obituary writer – Jude Law and strong and masculine doctor played by Clive Owen – this star cast worked hard to reproduce deep feelings and emotions of their characters.
The action takes place in London, and the director chose beautiful places that correspond to the general mood of the movie. The London Eye, parks and famous buildings figure in the movie all the time, introducing characteristic to London melancholic atmosphere.
The film is ideal for Women's Film Festival as it refers to themes that worry both women and men all over the world. It's characterized by deep psychological analysis of relationships along with interesting and sharp dialogues about sex and intimacy issues which do not cross the border of decency. It's actual, it's sharp, it's instructive, and it makes you think. It's a good intellectual movie, which is rare nowadays.
Day 2
"Domino" (director Tonny Scott, starring Keira Knightley, Mickey Rourke, Edgar Ramirez, Lucy Liu. USA, 2005)
The choice of this movie is not accidental. As mentioned above, women are not keen on watching action movies. But what if the action movie is about a strong woman, and premised with a promising phrase "Based on a true story… sort of" which intrigues and attracts. Actually this film is based on a true storey of Domino Harvey, a bounty hunter, Ford ex-model who gave up her career to be a hunter and who died soon after the movie production was finished.
According to many critics, the movie seems to be a mess, but they agree that its entertaining value is considerable. Moreover, it's necessary to say that Keira Knightly's performance in this movie is better than in any other. A Hollywood star that is usually associated with delicate girls ("Pride and Prejudice") or charming heroines ("The Pirates of Caribbean") this time turns into courageous, firm, extreme, strong and fearless bounty hunter. The actor cast is interesting: Mickey Rourke, a veteran of movie production, two "Beverly Hills" stars Ian Ziering and Brian Austin Green playing themselves, Mena Suvari and Christopher Walker, Lucy Liu and Macy Gray. It's a mixture of destinies and life stories that in the end turn out to be interconnected and tangled enough.
The structure of the movie, with the end of story placed at the beginning was used many times by other directors and proved itself to be an interesting detail that unites distinct events in the film. Naturally, as in any action movie, a lot of shooting, blood and cruelty are guaranteed, but the director's talent made it a versatile and captivating representation of Domino Harvey's life. "Domino" is elected for the Women's Film Festival because it's not just a simple action movie. This is a rather qualitative product that sometimes makes the audience laugh, some moments provoke tears and some – amusement.
Day 3
"Sex in the city" (director Michael Patrick King, starring Sarah Jessica Parker, Kim Cattrall, Kristin Davis, Cynthia Nixon, USA, 2008)
It's not even necessary to comment the choice of this upcoming and awaited movie, because the title truly explains everything. The series that brought women's (and probably men's too) eyes to the screens of their TV's during 1997-2004 made popular such names as Carrie Bradshaw, Miranda Hobbs, Samantha Jones, Charlotte Goldenblatt, and of course Mr. Big. "Sex in the city" movie is kind of logical and hopefully final outcome of the whole story about four New York women and their relationships.
This is a nice choice for Women's Film Festival, after two serious works ("Closer" and "Domino") "Sex in the city" is a light and joyful movie to see. After many years of being on air and staying the most popular TV series among women from all over the world, the main characters became close friends to all women audience, and the actresses, especially Sarah Jessica Parker, are now recognized fashion icons.
This movie is a relaxing story with a lot of glamour, fashion, and of course sex. Will Carrie finally marry Big? What is the end of the whole story? These are the questions that worry the audience. Film producers do not reveal much before the premier of the movie, but from the trailer it's possible to draw certain conclusions: about Steve being unfaithful, about Charlotte getting pregnant, about Samantha moving to another city and dealing with the problems of her understanding of relationships, and about something unusual happening during Carrie's and Big's wedding. But these are only hints, a couple of moments from the whole story which is really awaited by women audience.
Michael Patrick King continued working on this film as a director and producer. The most positive thing is that all the cast moved from "Sex in the city" series to "Sex in the city" movie, so that producers worked with the same actors and the audience is expected to be please to meet the old characters on a big screen.
Day 4
"All about my mother ("Todo sobre mi madre")" (director Pedro Almodovar, starring Roth, Marisa Paredes, Candela Peña, Antonia San Juan, Penelope Cruz, Spain, 1999)
"To all actresses who have played actresses. To all women who act. To men who act and become women. To all the people who want to be mothers. To my mother" This is a dedication of Pedro Almodovar in this movie, a movie that seems to be so far from actual life, a movie that is not scandalous but unexpected and vivid, multiaspect and insolent that could create the genius of Almodovar, a well-known Spanish director who doesn't need special presentation. Every new film made by him is really expected since is always possesses director's exceptional manner of seeing common things.
In "All about my mother" Almodovar reveals the problem of woman's position in society, including the case if the woman once was a man. The main heroine, Manuela, loses her only son in a car accident and decides to find her ex-husband, transvestite, whom she has left sixteen years ago being pregnant. When she was young, she joined a group of actors, where she had found her husband, but the problems began when the last began to take drugs, cheated on her and decided to become a woman named Lola. He never new that Manuela born a child from him. After the accident Manuela moves to Barcelona, where she meets her old friend Agrado, also a transvestite, and a young woman Rosa (played by Pelenope Cruz) who is pregnant with Lola's child and infected with HIV. Manuela stays with Rosa and helps her to go through hard period in life. At the same time she works for a theatrical actress Huma, who has problems with her lover, Nina…

Disclaimer: For the protection of client confidentiality we cannot post actual work done for clients. The sample provided is an essay or partial paper specifically written by our staff to demonstrate the quality of our writing service. Order your custom paper from ProfEssays.com today.
Looking for an exceptional company to do some custom writing for you? Look no further than ProfEssays.com! You simply place an order with the writing instructions you have been given, and before you know it, your essay or term paper, completely finished and unique, will be completed and sent back to you. At ProfEssays.com, we have over 500 highly educated, professional writers standing by waiting to help you with any writing needs you may have! We understand students have plenty on their plates, which is why we love to help them out. Let us do the work for you, so you have time to do what you want to do!