Essay Paper on Postmodernism and Marketing
…Everyone has definitely come across the word "postmodernism" a lot for it has been really popular lately almost in all spheres of life. And it's possible to assume that everyone can give a more or less precise definition of what is the postmodernism, and what are its significant features. Moreover, we know exactly what preceded this epoch, but perhaps the most amazing thing is that nobody knows what is going to be next, when the ideas of postmodernism exhaust, as it inevitably happens with all stages.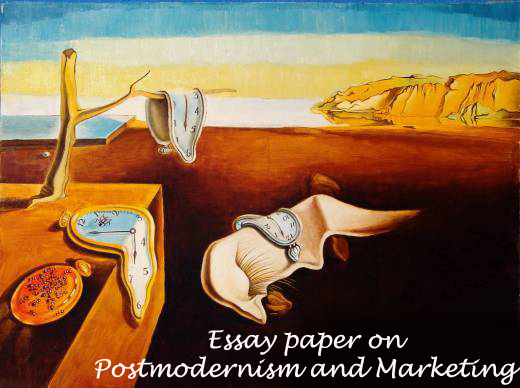 However, this is not what we are interested in. Postmodernism is the new phase of development of economics, politics, and naturally, marketing. What are the connecting threads between postmodernism and marketing strategies? What is the impact of new ideas on the minds of new generation of postmodern customers? What changes took place in marketing strategies and advertising material presentation? What is the new perception of truth, what are the values and goals of postmodern marketing activities? These are merely all questions that will be analyzed in this work.
Nowadays the term of postmodernism is explained in numerous books, journal articles and encyclopaedias, but one of the best explanations of character of postmodernism is given below: "Postmodernity is the place where there are no rules, only choices, no fashion, only fashions, the Joneses are kept well away from and anything not only goes, but it has already left the building. It is the place where one listens to reggae, watches the western, eats McDonald's food for lunch and local cuisine for dinner, wears Paris perfume in Tokyo and retro clothes in Hong Kong".
The abovementioned explanation characterizes the eclectic side of postmodern epoch. But naturally, it's not the only definition, and surely not the most exact one. In fact, can we define something that cannot be kept within the bounds of words? Postmodernism is something that should be perceived with all five senses.
Postmodernism can be defined as a period in world history (different for each country though) which marks the borders of new epoch with its rules, concepts and philosophy. The term of postmodernism is generally implied in different spheres, and embraces a number of developments almost in all spheres of human activities. This makes the definition of postmodernism rather problematic. However, the concept of postmodernism is usually better understood when compared to the concept of modernism – a previous direction, which radically distinguishes from the subsequent theory. For instance, one of the principles of modernism was a univariant model of world's development. On the contrary, postmodernism introduces a multiversion model, which includes the ideas of cultural pluralism and culture's fragmentariness. Modernists considered each country to be a unique cultural reality and in order to discover this reality one had to go travelling. Postmodernists acclaim that there are corners of another cultural reality all over the world, for example, "McDonald's", "Disney-lands", theme parks, Chinese, Japanese, French, Mexican restaurants etc. The phenomenon of hyperreality is characteristic for postmodernism, because it allows discovering the world in all its manifestations remaining in one place, but at the same time perceiving the vibrations of foreign cultures.
Postmodernism was also defined by its critics and investigators as a rather fashionable contemporary stream, a pervasive wave that changes old opinions and establishes brand new principles and attitudes towards common things.
According to the words of critics, postmodernism understands "crisis of representation" which can be characterized by the deep depressive feeling of disappointment. This feeling of sad regret concerns life in all its manifestations: relations, theories, models of behaviour, comprehension, ideology, system of values. Thus, postmodernism logically finds its reflection in marketing, and becomes a new element, or even a background to new strategies and ideas…

This is just a free sample of the research paper, or part of the research paper on the given topic you have found at ProfEssays.com. If you feel you need professional writing assistance contact us! We will help you to create perfect research paper on any topic. ProfEssays.com – Leading custom essay and dissertation writing company and we are 24/7 open to serve you writing needs!
Don't hesitate! ORDER NOW!
Looking for an exceptional company to do some custom writing for you? Look no further than ProfEssays.com! You simply place an order with the writing instructions you have been given, and before you know it, your essay or term paper, completely finished and unique, will be completed and sent back to you. At ProfEssays.com, we have over 500 highly educated, professional writers standing by waiting to help you with any writing needs you may have! We understand students have plenty on their plates, which is why we love to help them out. Let us do the work for you, so you have time to do what you want to do!