Lesson 19: Interjections

In this section, we will be discussing interjections and how they're used in a sentence.
Objectives:
To define interjections
To enumerate the different ways in which interjections are used
To demonstrate how interjections are used in a sentence
Interjections are used to liven up a paragraph or to convey great emotion. In this lesson, we'll be looking at how interjections are used in a sentence and how they can add to the meaningfulness of a sentence.
Definition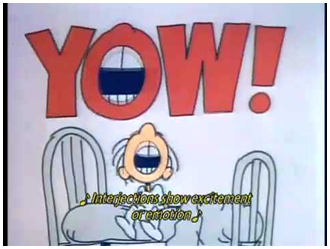 An interjection is a word which conveys a strong emotion. It is usually punctuated by an exclamation point. It doesn't have a functional use in a sentence.
[WpProQuiz 152]
Examples
While interjections may not have a set function in a sentence, they do have quite a number of common uses. They can be used to convey emotion, to call attention, to respond fervently or to convey hesitation. Listed below are a few examples.
Ex:
To convey emotion
Jeez! You didn't have to hit me!
Ow! He hit my arm!
To call attention
Hey, you!
Go! Run after him, quick!
[WpProQuiz 153]
To respond fervently
Yes, I do!
No, I would never!
To convey hesitation
Ummm,
Hrrrrrm—
In this lesson, we learned about interjections. We were able to find out that while interjections don't have a function within a sentence, they are very important when communicating strong feelings (even when those are feelings of hesitation). We also found out how to punctuate interjections and how to use them in a sentence.
[WpProQuiz 154]
Our next lesson is going to be about capitalization. We'll be learning about when it's appropriate to use capital letters and looking at different examples.
Looking for an exceptional company to do some custom writing for you? Look no further than ProfEssays.com! You simply place an order with the writing instructions you have been given, and before you know it, your essay or term paper, completely finished and unique, will be completed and sent back to you. At ProfEssays.com, we have over 500 highly educated, professional writers standing by waiting to help you with any writing needs you may have! We understand students have plenty on their plates, which is why we love to help them out. Let us do the work for you, so you have time to do what you want to do!