Lesson 9: Writing Your First Draft

In this lesson, we'll be taking a look at how to write your first draft
Objectives:
To discuss how to write a good first draft
To discuss the importance of an outline when writing a first draft
To discuss what to do and what not to do when writing a first draft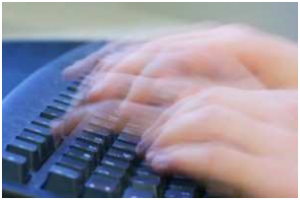 In this lesson, we're going to be talking about writing your first draft—now that you've done your research and gathered most of the ideas you need, you'll have to put it all together. Below are different tips to follow so that you can come up with a good first draft.
Write quickly
The important thing when writing a first draft is getting as many ideas out onto the page as you can—at this point, write as fast as you can. Don't worry about things like cohesion, organization and/or grammar and spelling. Here, focus on writing down everything that you think is relevant to your topic; the more ideas you're able to write down in a smaller amount of time, the more bases you'll be able to cover.
Keep writing
Don't worry about not knowing when you're going to finish or what you're going to end up talking about, just keep jotting down ideas. It's okay to write in a stream-of-consciousness way at first; you can break these down into sentences later on in the writing process. However, in the same breath you should remember that this is the first draft—don't get too attached to ideas or concepts that you might encounter in this part of the writing process. Remember that this draft will eventually be revised.
Forget the introduction
One of the most common reasons why people have trouble with the first draft is that they begin with the introduction—the introduction is a summary or a sneak peek at something that should already exist beforehand; it's very difficult to introduce something which isn't there. Make sure that you write the body of the essay first and write the introduction in "hindsight"; that way you're able to properly focus on what your paper contains. In turn, you're also able to write a better introduction because you're able to better explain what your paper is about.
Use your outline
Remember that your outline is there to guide you—when you aren't sure about where to go next or what to write about yet, refer to your outline. However, it is important to note that your outline should be a guide and not a regimented set of rules. Don't be afraid to change your outline in the process of writing if this best suits your composition's needs.
Revise!
The first draft is just that: a first draft which contains everything that your paper might contain. Ideally, your first draft should be the longest version of your work because you can let loose with the ideas. From here, pair it down to what your paper should contain. Don't be afraid to shave off details in the interest of writing a good paper that best communicates your ideas. If there are ideas which you like that you can't use in this paper, write it down and save it for later.
In this part of our class we were able to focus on writing the first draft. This lesson taught us that with first drafts it's okay to let loose—we can jot down as many ideas as possible so that we can best explore the different possibilities for our paper.
Now that we know about how to write our first draft and subsequently, how we should go about revising it (for the most part), we're going to be looking at how to write the introduction to your English composition. Keep reading to see what your introduction should contain and what should be left out of it to best introduce what your paper is about!
Looking for an exceptional company to do some custom writing for you? Look no further than ProfEssays.com! You simply place an order with the writing instructions you have been given, and before you know it, your essay or term paper, completely finished and unique, will be completed and sent back to you. At ProfEssays.com, we have over 500 highly educated, professional writers standing by waiting to help you with any writing needs you may have! We understand students have plenty on their plates, which is why we love to help them out. Let us do the work for you, so you have time to do what you want to do!