Lesson 13: The Final Draft

In this lesson, we'll be taking a look at how to put together your final draft.
Objectives:
To discuss your final draft
To discuss what makes a good final draft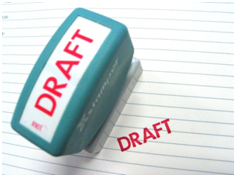 Your final draft is the draft which you come up with at the end of the revising and writing process—it should be the most cohesive, most organized and best-written version of your English composition. In this lesson, we're going to discuss how to know when your final draft is the final draft. Below are a couple of indicators that can help you out.
It's Difficult To Spot Errors
As you go along writing and revising, it should become more and more difficult to find errors in your draft. Once you come to a point where you're forcing yourself to find errors, it's probably time to stop proofreading. This is definitely a sign that you've come to the end of the road. If you are no longer able to find errors with the draft despite having read it a number of times, then that means it's ready for submission.
You Can Read Through It
When doing a line-by-line reading no longer makes you cringe, then you have arrived at the final draft of your English composition. A lot of the time when we edit or revise drafts, especially when looking at it with a fresh eye, we're unable to get through it without being irked by the way something is phrased or by the insights that you provide.
It is decidedly difficult not to be irked by the way that something is written, especially when you read it aloud. When you read through the paper in one go and everything sounds fluid, then this is most probably the final draft.
It Contains The Info You Need
Take a look at your outline—if all the information you decided early on that you need (no more, no less) has been represented in the paper, then this is most probably your final draft. This also corresponds with the length of your paper: if your paper is no longer too long or too short, then this is a good indicator that this is the final draft and is ready for submission.
This final lesson brings us to the end of this class. Now that you've learned all the basic guidelines of English composition, you can go on to write great essays and papers.
Keep reading to get to our conclusive lesson—the Conclusion or synthesis of everything that we learned in this class. Click on and take that final step toward mastering English composition!
Looking for an exceptional company to do some custom writing for you? Look no further than ProfEssays.com! You simply place an order with the writing instructions you have been given, and before you know it, your essay or term paper, completely finished and unique, will be completed and sent back to you. At ProfEssays.com, we have over 500 highly educated, professional writers standing by waiting to help you with any writing needs you may have! We understand students have plenty on their plates, which is why we love to help them out. Let us do the work for you, so you have time to do what you want to do!