Lesson 1: Why Take a Course on English Composition?

English composition is essential throughout one's academic and professional life—no matter who you are or what you're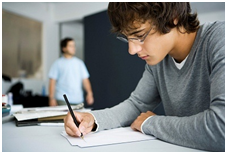 doing, learning how to write well in English is always going to come in handy. Whether you're a student who has thesis and other important papers coming up or you're in the process of job hunting and need to write a good essay to go with your resume or you're the boss and want to know how to write a good proposal for your clients, writing well in English is always going to be a useful skill because it's the most common medium of instruction across the world. This helps you broaden your communications with others. Outlined below are a couple of the ways in which taking a course on English Composition can help you out!
It'll provide you an avenue for practice.
As much as we'd like to say that it's "easy" to practice a skill like composing essays in English, the truth is that there aren't a lot of avenues for practice. While you can practice on your own it might still be difficult to point out what you need to practice. Do you focus on sentence construction or fidelity to information? What format do you use? What kind of references do you need?
Enrolling in a class helps you set guidelines for both your practice exercises and your actual English compositions. It also helps you keep a steady pace by providing both the information and the structure of your paper or your essay.
You'll know what to expect.
One of the most common reasons why papers and essays written in English fail is because the writer was caught unawares by what was expected of him or her. This is because you don't have a set standard to compare the paper with. Initially, you may not know what your reader wants to hear and furthermore, you probably won't yet know how to manage the disparity between expectations and reality. Taking a course on English Composition will help you learn to deal with what is expected of you and your writing. These parameters will raise the chances of you succeeding.
Furthermore, this course in particular was built especially to be example-oriented. With the examples readily available for every lesson, you'll be able to know exactly what is needed of you and how to execute it.
You'll build your information literacy.
Designed to be especially informative albeit its simplicity and conciseness, this class consists of lessons that will help you become quick-witted with information—here, you'll learn all about the economy of paragraphs, sentences and punctuation and how they can be properly utilized to get your point across. Furthermore, you'll learn how to seek out information. In our fast-paced world, there is no longer any room for error or misinformed opinions. Taking an online course such as this one helps build your information literacy by properly utilizing the online media platform and teaching you how to do both extensive and intensive research. Whatever the situation, it's always a plus to be well-informed.
Now we've taken a look at three of the biggest reasons (among many) why courses on English Composition can definitely be useful—in this introductory portion of our class we were able to enumerate different manners through which learning how to write compositions in English could be the line between success and failure.
Next we'll be starting our lesson proper. Because this class might be tricky for people who don't speak or write in English as a first language or for those who haven't properly reviewed their grammar in a while, we'll be doing a short review on grammar & composition. Keep reading to begin!
Looking for an exceptional company to do some custom writing for you? Look no further than ProfEssays.com! You simply place an order with the writing instructions you have been given, and before you know it, your essay or term paper, completely finished and unique, will be completed and sent back to you. At ProfEssays.com, we have over 500 highly educated, professional writers standing by waiting to help you with any writing needs you may have! We understand students have plenty on their plates, which is why we love to help them out. Let us do the work for you, so you have time to do what you want to do!