Management Dissertation- Manage The Paper Well
Writing a management dissertation involves a broad and professional approach to the subject. Your personal ideas and experiences are important assets for your dissertation while the facts and your previous readings are the accessories. A good thesis/dissertation on management requires your skills in wide areas. Planning, organizing, leading, staffing and controlling are the classic divisions of management function and you need to be aware of how they function independently and together. For any help in your dissertation, be it for bachelor dissertation like BSC dissertation or master dissertation like information technology dissertation, MSC dissertation, management dissertation, or any other, the professional writers at ProfEssays can be there for you.
Download Free Sample of Management Dissertation
Management Dissertation Free Sample (Click the image to enlarge)
---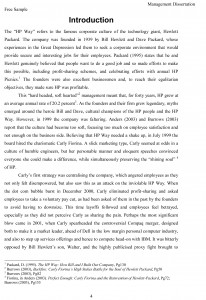 With the help of the writers at ProfEssays, your dissertation takes a form of a quality paper which will help you excel in your academia. ProfEssays employs only the master and doctoral in the related field and hence are endowed with adept skills to approach the management issues. Besides, they are well versed in writing in various formats – APA format, MLA format, Harvard style- as per the need. Some important considerations for writing a good management dissertation are listed below:
Identify novel problems- Identify some interesting and novel issues or problems and define them in terms of management concepts. If you are writing a dissertation for advanced degree, the research should lead to contribution to knowledge which means you should give some new meaning to existing issues.
Investigate the questions- Investigate the questions and propositions, do reviews of the literature in the field and the issues. Case study can be very handy in management dissertation. You can even include them in your analysis to support your ideas.
Conduct the research survey- Observation, interview, experience, readings, critical thinking all will add value to your research. Depending upon your area you may need to visit the fields, organizations, talk to managers, business people and get to know their firsthand experiences. Or you may need to observe some phenomenon like conflict in an organization.
Make generalizations, draw conclusions- Your research should be able to draw valid generalizations and inferences. If your ideas do not give any new insight to the issue, and its applicability is limited in general situation, your dissertation is not a success.
Offer recommendations and suggestions- Since management dissertation often takes form of action research paper, you need to recommend and suggest solutions to the issue or problem identified. Again remember, give something new that is supported by facts, evidences and empirical study.

If you feel writing a management dissertation is giving you a headache, you can rely on our writing service. Experienced native English writers at ProfEssays ensure that your custom essay is given total originality- which means no plagiarism. Also we are committed to punctuality in writing since we understand time is vital, to you and to us. We also give you free revisions till your paper turns out to be your way and assure you of full confidentiality of you and your card's details. So just take advantage of ProfEssays and succeed in your academia.
Looking for an exceptional company to do some custom writing for you? Look no further than ProfEssays.com! You simply place an order with the writing instructions you have been given, and before you know it, your essay or term paper, completely finished and unique, will be completed and sent back to you. At ProfEssays.com, we have over 500 highly educated, professional writers standing by waiting to help you with any writing needs you may have! We understand students have plenty on their plates, which is why we love to help them out. Let us do the work for you, so you have time to do what you want to do!