Writing an Ed.D. Dissertation
Writing is a vital part of completing an Ed.D. degree.  But while there are a lot of resources devoted to dissertation writing in regards to a Ph.D. qualification, it is often more problematic to find equal guidelines explaining how to complete Ed.D. qualification.   There are some quite major differences between the two that are important to understand before you begin your writing.   To this end we have designed this page to provide you with dissertation services in order to help you with writing your Ed.D. paper, and explain how it differs from a Ph.D.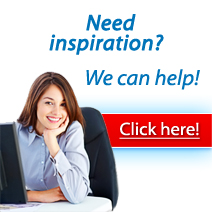 Quick Navigation through the Ed.D. Dissertation Writing Page
Download Free Sample of Ed.D. Dissertation
How does an Ed.D. Differ from a Ph.D.?
Framework for Doctoral Program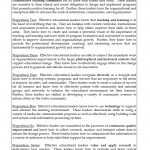 An Ed.D. (or Doctorate of Education) is equal in stature to a Ph.D. but traditionally is thought of as more 'practitioner friendly' than the research orientated Ph.D. (or Doctorate of Philosophy).
It's possible to gain a Ph.D. in many subjects that are science or humanity orientated – for example, math or history. However, the focus of Ed.D. qualifications is far more geared towards those who are planning on going into a practical career such as psychology or counseling. So, in essence, a Ph.D. prepares graduates to work in an academic career, whilst an Ed.D. prepares a student for work in a practical role – and very often one in which the person will be providing education to others. Because of this, an Ed.D. program will often require several years of professional experience as one of entrance requirements. This might include experience in administrative or even management level and can be reflected in the writing of your Ed.D. dissertation.
Once you understand the difference between the two, it's then easy to comprehend how the two dissertations will differ from each other. Ed.D. Dissertation writing will typically be focused on study and practical experience. While a Ph.D. will be more geared towards theoretical knowledge of a more scholarly discipline.
What are the Main Features of an Ed.D. Dissertation?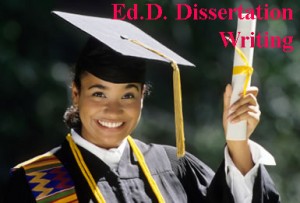 The whole idea of producing an Ed.D. dissertation is to show your ability to understand the practical aspect of your study and that you'll be able to impart this information to others.  So, in general it should concentrate on looking at one (or more) of the following:
A particular program or known practice in the field

A problem to do with education, or the education of others

A reform or policy that has been put in place to rectify a previous problem
It is usual for the paper to delve into studies at a local aspect, therefore giving the student the opportunity to discuss the problem or policy and search for possible solutions.
An Ed.D. dissertation is extremely likely to present research and results in the form of surveys.  This ensures that the evaluation given is at a practical and 'real time' level, so leading to practical knowledge about the subject as well as giving the student the insight into various educational practices.
How Can We Help
We understand that producing an Ed.D. dissertation doesn't happen overnight.  It's very easy to think that you have plenty of time to complete your thesis and suddenly find that it's due in a week's time.  But never fear, because this is where we can help.  We have experienced professional writers who have completed a multitude of dissertations in every subject, and are just waiting to provide you with a top-mark paper.

So it doesn't matter in what subject you need your Ed.D. dissertation, we have a proven essay  and dissertation writers ready and waiting to complete it.  Of course, the more notice you give us the better, but we do offer an 'emergency service' for the times when you just leave it too late.  So no matter how late you've left it, get in contact and order your Ed.D. dissertation today.
Suggested Ideas for Ed.D. Dissertation Content
When researching content for your Ed.D. dissertation writing you should do your best to evaluate something practical of which you have personal experience. You may search for your subject at the university at which you're studying, place you are working, or have worked in the past,  or it can even be a local community project.
Consider the following as ideas to include in your Ed.D. dissertation:
Programs towards caring for the elderly in a particular area

How the use of e-portfolios for various qualifications has improved both student and tutor efficiency as opposed to more traditional, paper based, essays and papers

How the introduction of classroom assistants has aided primary school children

Looking at a college or course in particular, how the ability of students to take notes on their laptops has improved efficiency during lectures
These could all be discussed at local level, making your Ed.D. dissertation apt for the exact area of study.  For example, in our first point you could study the elderly in your local area.
Checklist for your Ed.D. Dissertation Proposal
Before writing your Ed.D. dissertation you'll be required to submit what is known as an Ed.D. dissertation proposal.  This should include the following:
Identification of the problem or issue

Your research aims

A literature review and discussion

Your research questions (depending on the amount these might be divided into major and minor questions)

Your intended methodology (e.g. your data collecting and analysis methods)

A bibliography
Looking for an exceptional company to do some custom writing for you? Look no further than ProfEssays.com! You simply place an order with the writing instructions you have been given, and before you know it, your essay or term paper, completely finished and unique, will be completed and sent back to you. At ProfEssays.com, we have over 500 highly educated, professional writers standing by waiting to help you with any writing needs you may have! We understand students have plenty on their plates, which is why we love to help them out. Let us do the work for you, so you have time to do what you want to do!