Business Ethics Case Study
Being required to write a case study on a particular aspect of business ethics is often yet another requirement of an undergraduate degree in business, or MBA. However, you may feel uncertain as to what you should write about. To make your decision easier we've prepared a list of both ethical issues and spheres of business you can choose from for your case study.
Having a solid topic on which to focus on your business ethics case study is imperative. There are many areas of the business world that have ethics-related concerns, which leaves you a lot of room to choose something that is truly of interest to you. The way in which these businesses manage themselves is another area that the case study will touch upon, as it will help you to define your variables, find your key players, and determine how they all interact to create or exacerbate the problem you have chosen to study.
While writing a business ethics case study might seem daunting, it can be easily broken down into the sum of its parts, making the process a lot clearer and certainly much easier to manage.
Quick Navigation through the Business Ethics Case Study Navigation Page
Download Free Sample of Business Ethics Case Study
---
What Should You Demonstrate in a Business Ethics Case Study?
Business Ethics Case Study Essay
(Click the Image to Enlarge)

When you build a base of information upon which to perform a case study, or thorough analysis of a set of information about a certain company or group of people, you need to ensure that a number of things are accounted for. Writing a business ethics case study involves the synthesis of a lot of different bits of information, which then allow one to glean something from what is, at first, a large amount of senseless data.
– You must demonstrate an understanding of all variables, or contributing factors, to your business ethics case study writing.
– You must also be able to identify the key "players", or those who are contributing most significantly to these variables.
– In order to identify key players, you must understand the motivations behind certain types of ethics violations.
– You must understand the reasons for having a certain agenda in order to identify all the players and variables involved.
Once these are identified, you must then be able to interpret how these variables effect, cause, or exacerbate the problem you are looking at in your business ethics case study essay.
How We Can Help
At ProfEssays.com we are a time honored writing assistance company that offers convenient, affordable, and confidential writing services. When faced with a business ethics case study assignment, and you don't know where to turn, look no further. Our staff is comprised of highly educated, well qualified professional writers that have advanced training in the business field.

With years of education and experience under our proverbial belts, we are here to help with any aspect of the business ethics case study writing process – whether you need a complete custom paper, help with creating an outline, coming up with a topic, citing sources, and more – our staff is available 24/7, waiting to make the business ethics case study essay writing process as simple and rewarding as possible. Order your business ethics case study now, and we promise you'll be satisfied with the paper you receive!
What Ethics Issues May a Business Ethics Case Study Be About?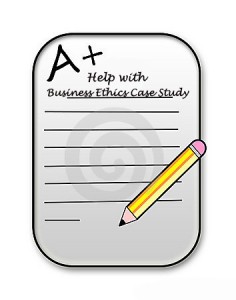 Choosing a topic, as with many types of essay writing, is one of the most difficult aspects of writing a business ethics case study essay. There is a large number of areas that you can choose from for a business essay, but there is a narrow band of ethics violations that is often handled by key corporations that make excellent starting points and topics from which to base your case study on.
• The Environment: Many companies are beginning to come under fire for the environmental impact of their operations. Energy companies, manufacturers, and the agricultural industry are obvious subjects that can be touched upon, as their basic business practices can have a profound and negative impact on the environment. However, even companies that do not produce physical goods and services can have a negative impact on the environment by way of resource use. There are a considerable number of companies – both that produce physical goods and services, and those that don't – that are becoming transparent, and making strides to reduce their impact on the environment.
• Corporate Governance: Corporate governance can loosely be defined as the way in which a business manages itself. It is the structure in which the business operates. As with different countries, there are different strategies or "political views" in how to run, operate, and manage a company. Companies with what are seen as poor governance strategies will often come under fire for these ethics violations.
• Human Rights: This is something, at least within in the United States that would most pertain to international corporations, as our government already has strict human rights rules and regulations. These ethics violations studies could entail the treatment of international labor.
• Responsibilities to the Stakeholders: A publicly owned company is required, by law, to provide the highest return on an investor's investment as possible. There have been cases where "books have been cooked" and loopholes have been found whereby stakeholders were not receiving the fair share of their return.
• Social Responsibility: This refers to the unspoken social contract that we expect business to have with society. Infractions on social responsibilities would include unlawful dumping of toxic materials, failure to educate people about processes properly, and other sorts of actions.
• Executive Compensation: This is a more philosophical ethics violation, but one that has come under increased scrutiny in recent years. With the financial assistance many governments have been required to provide to many corporations, the compensation that the "higher ups" receive, including bonuses, kickbacks, and other incentives, have come under intense discussion about their morality.
Which Areas of Management Might a Case Study Address?
As noted above, there are many different "tracks" one can take on this topic as it is extremely multifaceted, and, as with all forms of ethics, open to interpretation and debate. There are many different areas and ways in which a company manages itself. These management areas are often a great choice for the focus of a solid business ethics case study essay.
• Human Resources: Focusing on this aspect of management would entail a focus on how employees are treated as well as how they are compensated. Information about salaries, benefits packages, and other incentives of doing "x" job will be important data to have.
• Marketing: This is an area that has many good tracks you can take. Marketing, in and of itself, is a very sticky issue when it comes to ethics. To ethically market, a company must provide adequate transparency, provide all required or necessary information, and should not use underhanded tactics to sell a product or service.
• The Production of Physical Goods: There are many environmental and social implication in the actual production of goods, which makes this an excellent area to focus on for your business ethics case study writing. The actual processes that are used to produce a said good can be touched on from either an environmental, labor, or social perspective.
• Unions: Unions, even today, are still points of contention for many. Ethics violations related to union activities would be things like union busting, and improper management on the part of the union itself.
• Intellectual Property: As our world becomes more digital, virtual, and Internet-oriented, intellectual property, or intangible property that one has created such as music, software, and even ideas, has become a large area of contention. We need creative people in order to create innovative new products and services, but a question that continues to be asked is whether or not legal protections of this type of property are imperative to the creation and spread of new ideas.
Looking for an exceptional company to do some custom writing for you? Look no further than ProfEssays.com! You simply place an order with the writing instructions you have been given, and before you know it, your essay or term paper, completely finished and unique, will be completed and sent back to you. At ProfEssays.com, we have over 500 highly educated, professional writers standing by waiting to help you with any writing needs you may have! We understand students have plenty on their plates, which is why we love to help them out. Let us do the work for you, so you have time to do what you want to do!