Lesson 9: Business E-mails

In this lesson, we'll be taking a look at the format of a business e-mail and what it should contain.
Objectives:
To define the goal of a business e-mail.
To show the correct format of a business e-mail.
In this lesson we'll be discussing how to write business e-mails. We'll also be looking at how the business e-mail differs in content, format and intent from the business letter and the business memo. In addition to this, we'll be looking at an example of a well-written business e-mail.
1. Content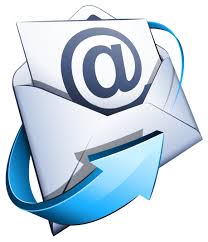 A business e-mail is an e-mail which talks about business matters. In most cases, business e-mails are in between business letters and business memos in that they are as short as memos but convey as much information as letters (via attachments). Business e-mails, like business letters, are usually directed externally or toward a client or business partner. Although internal business e-mails are also often exchanged, these are usually more casual and convey short-term information (e.g. an e-mail cancelling the meeting which was to be held at 5PM today).
2. Format
A business e-mail is a lot less formal than a business letter. However, it should still be direct, clear and concise.
The Subject portion of the e-mail should be a short summary of the contents of the entire e-mail.
The header or greeting line can, unlike in business letters be something a little more casual like Hi or Hello. However, to maintain a professional air without coming off as extremely cordial, you can address the recipient by using their title + their first name (e.g. Dr. John or Ms. Lea as opposed to Dr. Roberts or Ms. McCarthy).
The body should not be more than 3 paragraphs long. If this is the case (e.g. if the e-mail contains a thesis or a proposal), always attach the file and mention this in the e-mail instead of attempting to paste everything as in-line text. When writing a business e-mail, make sure that you never use chat language. Always spell out the words and avoid using overly casual abbreviations (e.g. say want to not wanna).
With business e-mails, the send off should be considerably less stiff than in business letters although it is always best to be a little bit too formal rather than to be not-formal-enough. For example, it's best to use Best, as a sign off rather than See ya 'round, because while the former is a tad stiffer than Sincerely, or Cheers! it is also more respectful.
It's also good (especially if the person being addressed is someone you haven't seen in a long time or is someone you've only met once) to bring up the last time you've met. This is a gesture of good will and allows the other person to know that you are writing from a sincere stand point. Below is an example of a well-written business e-mail.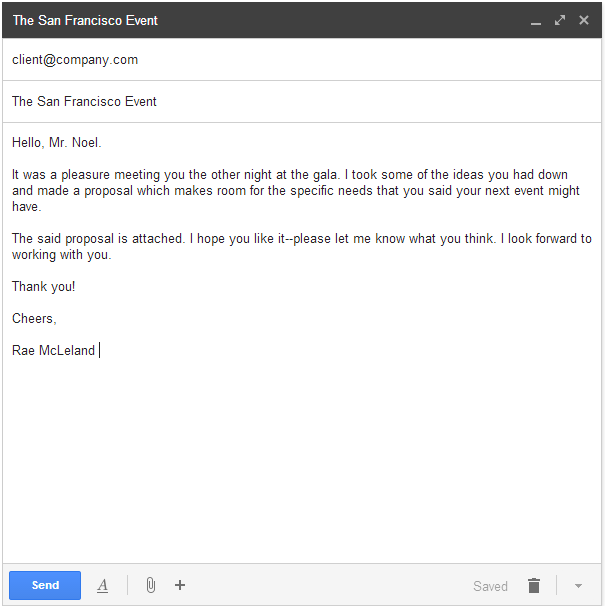 In this lesson, we learned about how to write business e-mails. We were able to discuss what business e-mails should contain, why they're sent and the way in which they should be written. We were also able to look at the example above for reference.
Our next lesson will focus on how to write one of the most important business documents—resumes and cover letters. We'll be discussing what makes good resumes and cover letters as well what information is appropriate to include when writing these crucial business documents. We will also be looking at examples and discussing the proper format.
Looking for an exceptional company to do some custom writing for you? Look no further than ProfEssays.com! You simply place an order with the writing instructions you have been given, and before you know it, your essay or term paper, completely finished and unique, will be completed and sent back to you. At ProfEssays.com, we have over 500 highly educated, professional writers standing by waiting to help you with any writing needs you may have! We understand students have plenty on their plates, which is why we love to help them out. Let us do the work for you, so you have time to do what you want to do!