Lesson 8: Business Memos

In this lesson, we'll be taking a look at the format of a business memo and what it should contain.
Objectives:
To define the goal of a business memo.
To show the correct format of a business memo.
Quick Navigation through the Lesson 8:
In this lesson, we'll be discussing business memos. We'll be taking up their definition, how they're different from business letters and how they should be written. We'll also be looking at example of the proper business memo format.
1. Content
A business memo is usually used to convey information within the company. There are two kinds of business memos—a general memo and a personal memo. In this part of this lesson, we'll be discussing how the two differ in terms of their content.
Memo stands for memorandum or notice.
2. General Memo
This is used to circulate general information. For example, if a new regulation or rule is going to be sent out, it's best to send a memo that can be circulated throughout the office; this saves time and energy. For example, it would be painstaking for the boss to have to tell all the employees individually that the internet service provider has changed and the internet will be down for a few hours.
There is also such a thing as a specialized general memo, in which case the memo is only shared with one person or with a specific group of people. This often happens in the case of work-related reminders (e.g. a notice asking someone to return borrowed equipment) or project-specific information (e.g. the members of a certain team or department are informed of changes on an account they're handling).
3. Personal Memo
Click the image to download Personal Memo Sample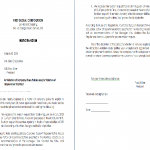 A personal memo is usually delivered to an individual who needs to be notified about a lapse in his or her work performance. When writing a personal memo, you should be very mindful of your language. Personal memos are meant as a cautionary notice: you need to be gentle enough so as not to discourage the person receiving the memo from trying to do better but you also need to be firm enough to convey the seriousness of the situation. You need to strike a good balance between strictness and kindness when writing personal memos.
For example, instead of writing "You did very badly this month. You're in danger of losing your job", you should phrase the body of the memo so that it is encouraging without losing the firm tone. A better way to write this would be to say "This is to inform you that unfortunately, you weren't able to meet your performance goals this month. However, please remember that this is just an opportunity for you to strive harder! Please try and do better this coming month so as to avoid unwanted circumstances."
The main thing which sets a memo apart from a business letter is its length. The goal of a memo is to convey information quickly and efficiently. This is why most of the information contained within a memo isn't confidential (at least not internally) and isn't extensive. Memos are typically left on people's desks for them to read and are not necessarily hand-delivered.
4. Format
All memos begin with the heading. This consists of the following fields: To:, From: and Subject:. This helps give the reader a general idea as to what the notice is about.
Next comes the body of the memo which is typically less than 250 words. This is where most of the information is written down.
Last comes the closing where you are to report the final finding or conclusion of the memo; this is also where you thank the recipient for reading the business memo.
Like business letters, business memos should be type-written in legible, print font. However, it does not need to observe a specific margin or paper size. Because memos are usually given on-the-day, there is typically no need to write the date unless it is undelivered within the day it is written or sent out.
Below is an example of how a memo should be written: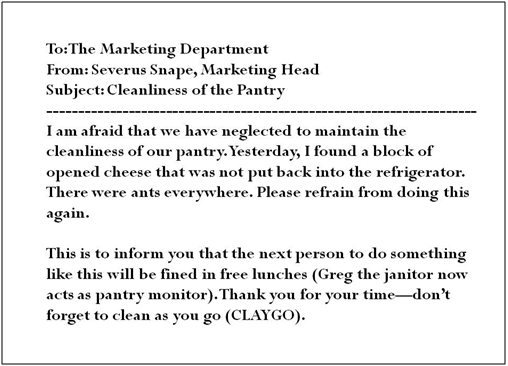 The memo above was able to address all of the parts and contents of a memo which we previously discussed: the header, the body and the closing portion. It was neat, precise and professional without being unfriendly or hostile.
In this lesson, we were able to define a business memo, its purposes and how it differs from a business letter. We were able to identify its parts and look at an example. Next we'll be looking at how to write business emails. Keep reading and you'll be one step closer to writing neat, contemporary business documents!
Looking for an exceptional company to do some custom writing for you? Look no further than ProfEssays.com! You simply place an order with the writing instructions you have been given, and before you know it, your essay or term paper, completely finished and unique, will be completed and sent back to you. At ProfEssays.com, we have over 500 highly educated, professional writers standing by waiting to help you with any writing needs you may have! We understand students have plenty on their plates, which is why we love to help them out. Let us do the work for you, so you have time to do what you want to do!