Lesson 13: Business Writing Rules

In this lesson, we'll be discussing different guidelines when writing business documents.
Objectives:
To state a standard for writing in business.
To enumerate different guidelines for the student's business writing.
Quick Navigation through the Lesson 3:
This lesson is going to be the most crucial lesson among all of the modules we're discussing in this class. In this part of our class we'll be discussing the meat of this discussion: what are the rules of writing in business? Here we'll be talking about the important factors to consider throughout all mediums and formats of business documents—we'll be talking about the writing truths that hold true across all boards of business.
1. Be respectful.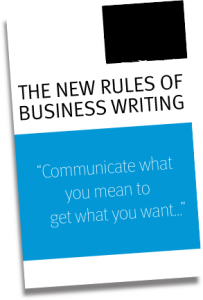 Whether you're writing a resume, a cover letter or a brochure, you should always exhibit respectfulness in your tone of language. It doesn't matter whether you're writing to your boss or to a colleague or to a client or to a subordinate: you should never say anything offensive—even if the content of your letter is meant to convey bad news or rather unpleasant feedback.
Remember that whenever you write certain documents like a business e-mail or a business letter on behalf of a company, you're no longer just representing yourself: you're representing an entire organization. Just as well, remember that whenever you act on behalf of your company, it isn't just the company's name that's at stake—in the long run you're also putting your reputation on the line.
This ties in with our lesson in the previous section of this class about political correctness. As a professional, it's your responsibility to consistently check and double-check yourself for possible lapses in tone, subject matter and judgment.
2. Don't show off or over-sell.
One sign of a true professional is that you're able to keep it classy—never show off or over-sell yourself or your products. While it's important to highlight crucial information, it's also important to trust the person you're doing business with to make up their own mind. Never, ever attempt to put words in the mouth of a business correspondent—phrases like if I were you, I would or buy now or you'll miss out are big No-Nos. Remember that business is about more than just about money: it's about responding to demand or a need.
3. Be professional.
Even if you know the person you're corresponding with personally, make sure that you always keep things professional. Make sure that you treat all the people you correspond with equally and that you're able to ensure fidelity to the business. When writing your documents, make sure that you are tactful and prudent enough to decide which things can and can't be stated during a business transaction and proceed accordingly. Stating things like come on, we've known each other for years—cut me some slack or you don't have to go through the SOP since we're friends are definitely unacceptable. One of the biggest goals of business documents is to create a standard for interaction in and around the workplace.
4. Focus on the information.
Business documents are always a response to a need for information—business letters, memos, e-mails and brochures are all written to be able to convey or respond to information (e.g. proposals, announcements, clarifications). Having said that, we can be easily distracted by other nuances of business like how we view the other person or what business matters hang in the balance of the transaction; a lot of the time our nerves can get the better of us. To avoid this, when writing your business document it's best to first focus on the information: what is it you want to say? Why are you saying it? After this, everything else—the context, tone and language will follow.
5. Use the active voice.
This cannot be said enough. Business documents need to be kept short, clear and concise. Using the active voice delivers messages more directly and in fewer words. Always say we'd like to do business with you and not the business we are in the business of doing would be better if done with you.
6. Be amiable.
Business documents are also an opportunity to form lasting partnerships between yourself, your clients and your colleagues. Business is all about interaction—when you write business documents, make sure that you aren't too stiff or formal. Of course, you still have to keep things professional but you should make sure that you are approachable. Portraying yourself as too fastidious could have a negative effect on business.
7. Be honest.
The key to success both in business writing and in actual business is to preserve your integrity—your word should count for something. Make sure that you never make (especially when written) promises that you can't keep. Also, never ever lie in your business documents and interactions, whether overtly or covertly. Remember that an effective campaign will only bring a bad product down faster: when writing business documents, make sure to highlight important facts and to be clear-cut about your (or your company's) limitations.
8. Keep it short but sweet.
Stick to the bare necessities: only state what needs to be stated. Keep your words and phrases simple and easy to understand. If the document is a little longer than usual (as with brochures and resumes), make sure to outline the different sections clearly so that your point gets across.
9. Use second person.
The only exception to this rule is the resume since most of it isn't written in paragraph form. Otherwise, always remember to acknowledge that you are speaking to someone—avoid writing in third person because this makes you seem detached; as a result the person you're corresponding with might feel alienated. Also avoid starting every statement with "I" because this makes the document sound extremely self-centered and/or biased. You should always balance it out—talk about facts, insert a couple of opinions and always acknowledge that your reader is present.
10. Always edit and proofread.
This ties in with our previous lesson—always, always edit and proofread. Never send an e-mail, resume, cover letter or business brochure without making sure that the facts, figures, grammar, spelling and punctuation are all intact. Business documents and interactions always have a lot hanging in the balance: reputations, monetary value, investments. Don't ever send anything out until you've ensured its quality.
In this lesson, we studied 10 guidelines which apply to all kinds of business writing. We were able to tackle everything from grammar to tone. Following these guidelines will help us become excellent at writing our business documents.
Next we'll be looking at the different resources that we can use for writing business documents. Our penultimate lesson will focus on different references and templates which you can use to your advantage when writing your documents or ensuring their quality. Keep reading and you'll be one lesson away to completing this class on business writing basics!
Looking for an exceptional company to do some custom writing for you? Look no further than ProfEssays.com! You simply place an order with the writing instructions you have been given, and before you know it, your essay or term paper, completely finished and unique, will be completed and sent back to you. At ProfEssays.com, we have over 500 highly educated, professional writers standing by waiting to help you with any writing needs you may have! We understand students have plenty on their plates, which is why we love to help them out. Let us do the work for you, so you have time to do what you want to do!