Lesson 12: Proofreading & Editing

In this lesson, we'll be taking a look at different tips and tricks that help us proofread and edit our business documents.
Objectives:
To introduce the coming lessons.
To identify the importance of proofreading and editing your work.
To enumerate different tips and tricks which help when proofreading and editing business documents.
Quick Navigation through the Lesson 3:
We're now in the third and last section of our Class. The comings lessons will be talking about different guidelines which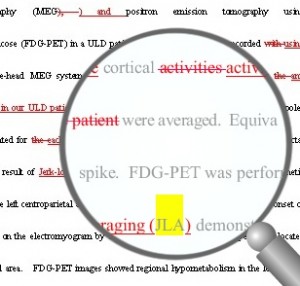 we should follow in order to write good business documents—we're now sinking our teeth into the meat of our class: how do we write good business documents? This lesson in particular will be focusing on how to edit and proofread your business documents.
In business writing, a lot of professionals worry about what to say but not enough worry about the final message that's going to be conveyed to the client, business partner or associate. In the previous section of this class we talked about how to write good business documents; now we're going to talk about how to ensure the quality of what you've written. Business documents are meant to be precise and factual; this is why editing and proofreading are so important when writing business documents—everything down to the letter should be correct.  Below are some tips to guide us through the process of proofreading and editing our business documents.
1. Only use spell-check to begin.
While there is a wide variety of automatic spell-check software available on the market (usually available with your word processor), these should only be used to start: they'll pick up some typographic errors. However, you should never stop there: automated spell checkers only pick up words that aren't inputted in their dictionary. They can't pick up certain jargon (e.g. dysmorphia or cramdown) and/or context (for example, it won't correct the error in the phrase we were honored to be in you're presence because both your and you're are found in the word processor's dictionary).
Moreover, never, ever allow the software to make corrections for you. Doing this could upset your entire document—if it's especially long, this could mean having to start from scratch and re-do everything.
2. Wait an hour—or two.
It's always good to look at your work with a fresh eye. After doing the initial spelling and grammar check, rest for a while before going back to look at your work. This allows you to see the work clearly and to spot errors in grammar, spelling, punctuation and context more easily.
3. Get a second opinion.
For an even fresher opinion, get eyes that aren't your own to read your work. This is especially recommended when it comes to work that is lengthy or tedious. Of course, you should only do this if the document isn't confidential—you should also be very particular about the person whom you're asking to read your work: it should be someone who is proficient enough with grammar, spelling and context as well as someone who you trust with the business information your document contains.
The most important thing is that the second opinion doesn't come from the potential client or business partner—the document should be perfect before reaching them.
4. Re-read again right before hitting "send".
Making the effort to double-check your work can often save you a world of trouble. A lot of business documents are built on templates—make sure that you double check everything before hitting the send button on an e-mail or have a memo circulated. Ensure that your document is addressed to the right person and that it contains the correct information. Use this opportunity to skim over your document one more time; it's always better to be safe than sorry.
5. Read it aloud.
This should be done when you still have time to correct your work. This helps you edit or get rid of statements that might feel awkward or that are stated in a manner that is confusing. It also helps you spot errors in subject-verb agreement that you could otherwise very easily miss.
In this lesson, we were able to look at why proofreading and editing are very important when it comes to business writing. We were also able to outline different steps that we could take toward ensuring that our business documents are flawless and well-written.
Next we're going to be tackling writing rules or dos and don'ts when it comes to business writing. These tips will serve as a guide to the often confusing task of writing business documents.
Looking for an exceptional company to do some custom writing for you? Look no further than ProfEssays.com! You simply place an order with the writing instructions you have been given, and before you know it, your essay or term paper, completely finished and unique, will be completed and sent back to you. At ProfEssays.com, we have over 500 highly educated, professional writers standing by waiting to help you with any writing needs you may have! We understand students have plenty on their plates, which is why we love to help them out. Let us do the work for you, so you have time to do what you want to do!