Lesson 11: Business Brochures

In this lesson, we'll be taking a look at the format of effective resumes & cover letters and what they should contain.
Objectives:
To define what the advantages of coming up with a good business brochure.
To show the correct format of a business brochure.
To enumerate different tips to follow when writing a business brochure.
Quick Navigation through the Lesson 11:
In this lesson, we'll be discussing business brochures—what they're for and how they should be written. We'll be discussing what should be included in business brochures and what should be left out of it. We'll also be enumerating different tips for writing a good brochure as well as showing an example of a well-written business brochure.
A business brochure is a short catalogue often given to prospective clients. This brochure contains the company's list of services or products, along with a short description of each of these services and/or products. Having a business brochure can make things very easy for a company because it allows employees to avoid miscommunication; it gives everyone within the company a uniform grasp of what it is that the company does. This allows everyone to present a united front to all prospective customers. Furthermore, it makes it easier for potential clients to figure out what it is that the company is in the business of doing.
Below we'll be discussing the form and content of business brochures and how to write them so that they're engaging and easy to read for both your employees and your clients.
1. Content
The main goal of a business brochure is to inform. It is a means of reaching out to people who might be interested in the company's offers. In this catalogue, you should include all of the products and/or services which you are offering.
You should also include all the important information about these products and/or services such as their advantages and disadvantages, what they entail, (for programs) how long their duration is and (for products) what they're made of. Keep in mind that your brochure should aid your sales but that your brochures should not employ invasive advertising. Refrain from using phrases like Buy now! or anything which too overtly expresses concern in the client's money. It is, however a good idea to employ calls of action like if you want to avail of our services or call us now for inquiries. The goal of the brochure is to show people that a good product is available, not to advertise a false product or to force people to buy anything. Making crucial mistakes like this could damage the company's reputation.
Your brochure should also include your company's contact details. This makes it easy for potential customers to find you and get in touch with you should they find your products and/or services compelling. This is especially crucial in today's fast-paced world because there is competition everywhere: if people don't know where to reach you, you could lose the opportunity of doing business with them very quickly as there is always another company there with an effort that may be equal to your own.
If prices of your services and products are fixed, then you can indicate them on the brochure (this is often done with cellular phone plans or catalogs for clothing)—however, if the prices of what you're offering is on a case-to-case basis, you can simply indicate that the prices can be given upon evaluation of the inquiry (again, never forget to include your contact details).
Perhaps most importantly, the descriptions of all your programs and products should be short but sweet—make sure that you limit the descriptions to 2 paragraphs at the most. Include only crucial information; if your customers are interested, they'll give you a call.
2. Format
The design of a brochure can differ, based on the type of business which you run. However, a staple for all brochures are legible font, organized headings (for example, if you own a shop for electronics, the portion for Mobile Phones should be separate from the section for Laptops) and informative descriptions.
Providing pictures (especially in the case of products) also really helps. Below are a couple of examples of well-formatted business brochures (please note that these are sample brochures and are exhibited for the sake of their format, not their entire content); key points are highlighted on the right-hand side.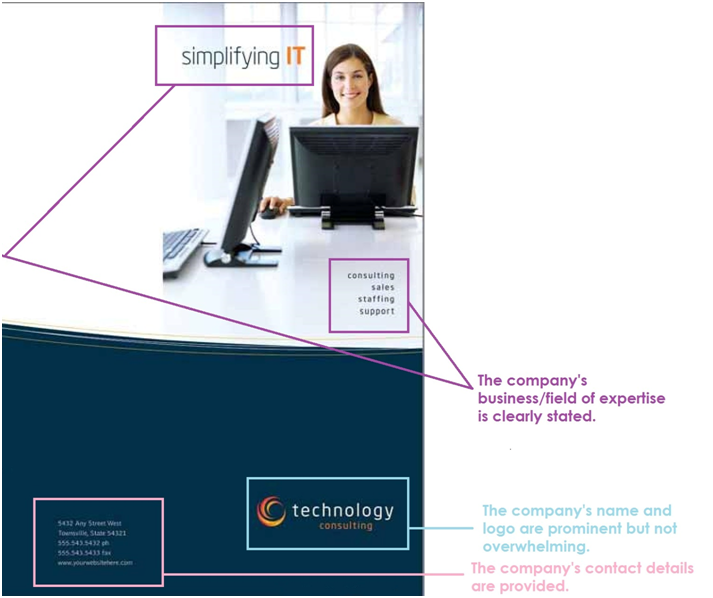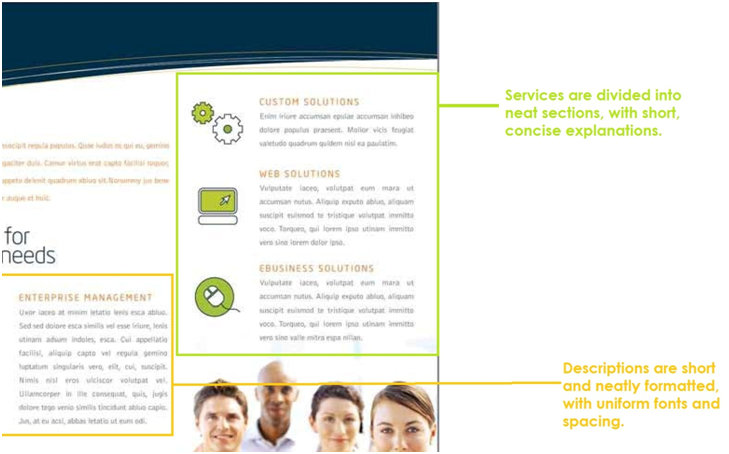 Here is one more example of well-designed business bulletin.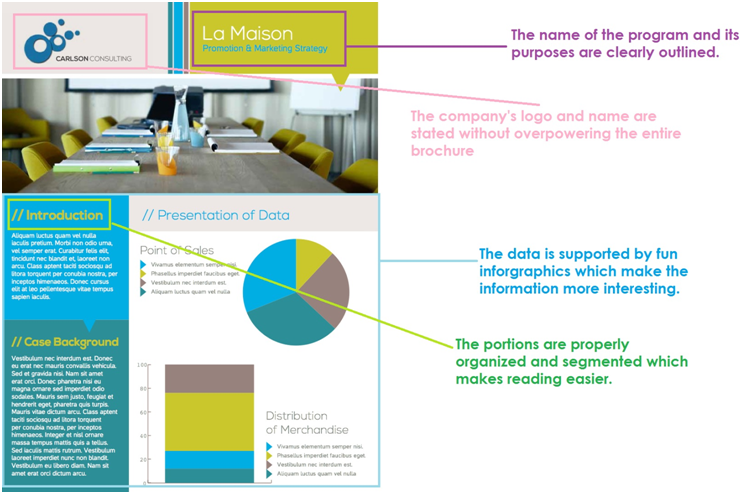 In this lesson, we were able to talk about business brochures—we looked at what information they should contain and how this information should be formatted. We looked at what information should be excluded and also at different techniques regarding spacing and length which help make your business brochures more inviting.
Next we'll be moving onto the next part of our class: business writing guidelines. Whereas in this part of our class, we focused more on the interaction of our business documents and their format, in the next part we'll be focusing primarily on the contents of our documents: how do we ensure that our documents are flawless? The first lesson in this portion is on editing and proofreading your business documents.
Looking for an exceptional company to do some custom writing for you? Look no further than ProfEssays.com! You simply place an order with the writing instructions you have been given, and before you know it, your essay or term paper, completely finished and unique, will be completed and sent back to you. At ProfEssays.com, we have over 500 highly educated, professional writers standing by waiting to help you with any writing needs you may have! We understand students have plenty on their plates, which is why we love to help them out. Let us do the work for you, so you have time to do what you want to do!