Lesson 1: Why Business Writing Is Great For Your Business

Learning how to write good business letters is crucial for your business to succeed—this can make or break whether or not people want to do business with you. In business, it's crucial to know what you want to say and to be able to deliver it in a manner that is precise without sounding rude or too demanding. Business is always a balancing of demand and supply: likewise, business writing is the art of balancing amiability with directness—for your letters, memos and notes to be effective you need to be clear but still communicate civility and a general pleasantness. Clients like to work with companies that express a sense of camaraderie and respect.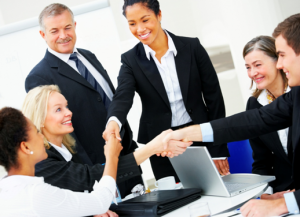 However, we understand that this can be very difficult with business matters because the exchanges are often very confusing and might at times, be very stressful. Business writing is great for your business because it ensures your clients and/or future partners that you are professional and know what you're doing. The worst-case scenario in business writing would be to be misunderstood or to offend your prospective clients.
In today's fast-paced modern world, there's no longer any room to make mistakes or any time to dilly-dally and correct yourself in succeeding e-mails. These days, it's all about getting it right the first time—business writing includes the e-mails you send to your colleagues, descriptions on your brochure or website—it can even include memos you send to your employees; they can either promote your company's growth and enrich your progress or they can do the opposite and demotivate or offend those involved. Because of the nature of the information they present, business writing has to convey what you mean to say in as few words as you can say it in. Learning how to write good business letters could be the catalyst for your company's growth!
In this class, we'll be discussing everything that we can about business writing. This class consists of three parts: an introduction which introduces our topic, a section on the basics of business writing, a list of the different types of business documents you'll need to write and how to deal with these different situations and finally, how to write business letters. This class only consists of 15 lessons which are divided under these four headers.
Our lessons are always jam-packed with new information, easy-to-understand and are always easy to remember. Written by our professionals who themselves have attained business acumen, these coming modules will help enhance your know-how on business communication in no time.
Next up we'll be discussing how business writing is defined. We'll look at the different ways in which people write to each other regarding business matters and in general, what interactions count as business writing. We'll also be looking at the common challenges which you might be facing when it comes to writing these kinds of letters. Keep reading and soon you'll be ready to write any kind of business letter!
Looking for an exceptional company to do some custom writing for you? Look no further than ProfEssays.com! You simply place an order with the writing instructions you have been given, and before you know it, your essay or term paper, completely finished and unique, will be completed and sent back to you. At ProfEssays.com, we have over 500 highly educated, professional writers standing by waiting to help you with any writing needs you may have! We understand students have plenty on their plates, which is why we love to help them out. Let us do the work for you, so you have time to do what you want to do!