Essay Paper on Nigeria
Nigeria consists of a fascinating collection of different peoples, cultures, histories and religions which have unfortunately never been united at any period in the past but today, gradually through democracy, it is trying to find a sense of nationhood out of the rivalries and bloodshed which bedeviled the country for years after independence. They are struggling to be democratic but are not quite there yet. The demographics and pre-colonial traditions of Nigerians were very different.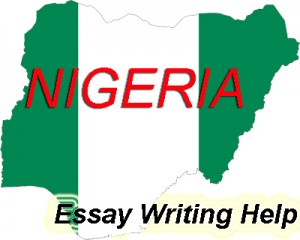 The Hausa in the North had been forming states and came under the influence of Islam in about the 15th century. But later on they were conquered by the Fulani for not being strict enough in their Islamic practices and being too worldly. This made politics and religion one. They learnt Islam in their schools and the mosques became a centre of activity.
Their ruler ruled them based on the Islamic law therefore there where no limits on his power. But they were the only group with this kind of religious and political system. There were two prominent groups in the South namely the Yoruba's and Igbo's. The Yoruba's inhabited the forest region and formed several kingdoms. They had village councils which voted chiefs thus limiting the chiefs authority by the councils checks. The Igbo had small organized village structures. They where very independent people so had much freedom. The village governments therefore had less power. Both of these groups worshipped their ancestors so where very different from North in terms of Religion.
In 1966, a revolution led by Major Chukwuma Kaduna Nzeogwu, took over the government killing the Northern Premier Alhaji Ahmadu Bello, Western Premier S. L. Akintola and the Federal Prime minister Alhaju Abubkar Tafawa Balewa. After much struggle, Lt. Col. Yakubu Gowon became dictator. However, in 1967, Col. Odumegwu Ojukwu withdrew the eastern region of Nigeria from Nigeria, and declared it the independent republic of Biafra, and war breaks out again. From 1968 to 1970, the Federal government of Nigeria reclaimed the Biafran territory, and Col. Odemengwu Ojukwu fled the country. For about five years, peace settled on Nigeria.
Then in 1975, leader Yakubu Gowon was overthrown in a bloodless coup. A coup is a sudden appropriation of leadership or power. Brig. Murtala Ramat Muhammed takes his place of supreme leadership. Shortly afterwards, the country's capitol is relocated to Abuja, and the country is divided into 19 states. That same year, Muhammed was assassinated in another coup, which involved former dictator Yakubu Gowon. However, a new leader Lt. Gen. Olusegun Obasanjo is put into position. In 1978, a new constitution is adopted by the then military government.

This is just a free sample of the research paper, or part of the research paper on the given topic you have found at ProfEssays.com. If you feel you need professional writing assistance contact us! We will help you to create perfect research paper on any topic. ProfEssays.com – Leading custom essay and dissertation writing company and we are 24/7 open to serve you writing needs!
Don't hesitate! ORDER NOW!
Looking for an exceptional company to do some custom writing for you? Look no further than ProfEssays.com! You simply place an order with the writing instructions you have been given, and before you know it, your essay or term paper, completely finished and unique, will be completed and sent back to you. At ProfEssays.com, we have over 500 highly educated, professional writers standing by waiting to help you with any writing needs you may have! We understand students have plenty on their plates, which is why we love to help them out. Let us do the work for you, so you have time to do what you want to do!